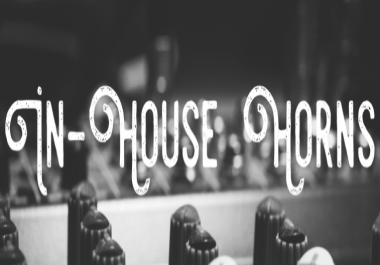 Horn section recordings of up to 4 tracks for $400
If you're looking to add a certain something to your song, you've come to the right place.

The In-House Horns are a dynamic, versatile horn section comprising Magz and Charlotte on Saxes & Flute, Nick on Trumpet, Flugel & Bass Trumpet and Chris on Trumpet, Flugel &Trombone. Specialising in studio recording but also appearing live, individually or as a section they have worked with stars of BBC Introducing, MTV Unsigned, The Voice and the X-Factor as well as award winning artists and bands from around the world.

Included in this service are up to 4 multi-tracked lines of any combination of Trumpet, Flugelhorn, Alto Sax, Tenor Sax, Flute, Alto Flute and Trombone. For a touch more cash we can also write the parts but you will need to contact us about it first. We do recommend that you get in touch with us before ordering as we need to schedule studio time due to there being more than one of us.

Pop
Funk
Soul
Jazz
R&B
Singer-Songwriter
In-House Horns Demo
Samples taken from Olly Flavell 'Paint the Sky' and Redwood 'She Is Grand'