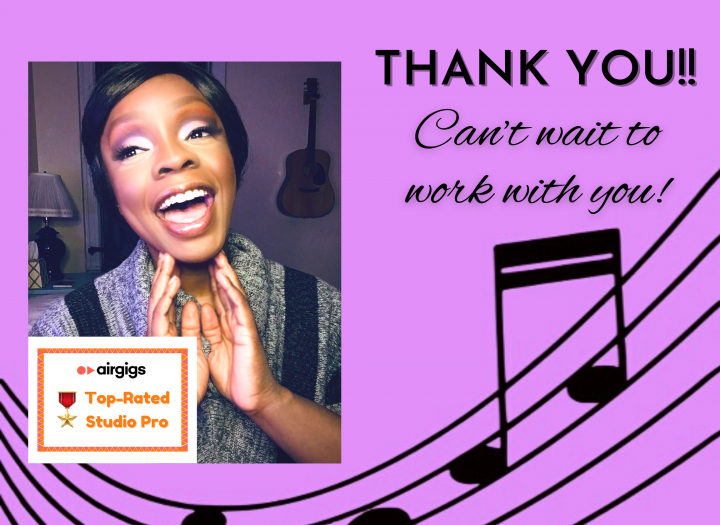 Quality VOCALS any genre - Work for Hire/ROYALTY FREE for $200
Welcome to Onyie Sings Vocal Services! Please send me a message about your project after reading & BEFORE PURCHASING. Thanks!
*****************************
I will provide a clean, professional LEAD vocal (melody only) for your track…

-- Vocal Stems (all parts if applicable)
-- Work-for-hire & Royalty free!
-- MOST GENRES!! Sara to Sia, Amy to Aretha! Jazz to Rock and almost everything in between!
-- Quick turnaround
-- ONE revision (revisions must be requested with 48 hours of delivery, no exceptions)
-- The quality of my work always meets if not surpasses the expectation and I'm super proud of that!

"Work for Hire" means I relinquish all rights and receive no royalties for the work. No matter how profitable the track may become, I earn no revenue after the initial payment. This is factored into my rates. 👍🏾

BGVs/harmonies WITH my lead would be a custom order we can discuss! For JUST backups, please see my other services!

Rates:

Lead Vocal (your lyrics + your melody) - $200
Lead Vocal (your lyrics + my melody) - $275
*Lead Vocals + Backing (already written)- $450 (save $100)
*Lead Vocals + Backing (I create; aka TOPLINE)- $600 (save $150)

**For any more specific detail questions you have, please send in your message and I'll be happy to answer them! For CHORUS, HOOKS or SAMPLE style vox see other services!
Handstands (Jazz)
This was a demo (unused) for a film. The final version is entirely different but I loved this one too!
Handstands (Jazz)

Always Ain't Forever

Can't Win

theHat (demo)

theHat (demo 2)