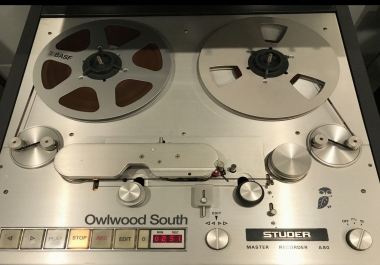 Full album *mix and *master up to 10 track - analog/digital hybrid for $795
25 years experience in mixing and mastering - including major labels, indie labels, and work with PBS, BBC, as well as many individual artists. I am dedicated to creating the best sounds possible, and am certified in Logic Pro X, Avid Pro Tools. I will accept projects up to 60 tracks - in genres of Indie, Folk, Blues, Rock, Country, Hip Hop, Jazz, and Symphonic. My turn around time is generally 3-6 days, depending on the project.

I work in a private studio, in a hybrid set up:

(HARDWARE) -- I have a vintage Studer 962 'sidecar' mixing console that I use to sum through, when needed. I always bounce out to my Studer A80 2-track machine, and have several outboard reverbs including Lexicon PCM60, Lexicon PCM70, Pioneer SR202W (Spring), Yamaha REV7 -- Also, I use a Neve 33609-metal-knob for buss compression. Other equipment available includes: Revox PR99 mkII, Roland Space Echo RE-201 (two), Vintage Echorec II, Thermionic Culture Vulture Mastering Edition,

(SOFTWARE) -- Pro Tools 12, Logic Pro X, with Universal Audio plugins, Waves Studio Classics and Renaissance Bundles, Sonnox Elite Bundle, Soundtoys 5 Bundle, Softube Bundle, and many more.

Please send WAV or AIFF files only. I will deliver the final mix/master in 24-bit 44.1k unless otherwise specified in correspondence.
Death Don't Have No Mercy
mix and master
Death Don't Have No Mercy

Mountains