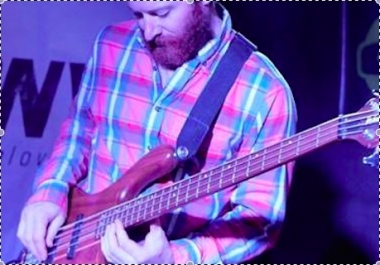 Bass tracks, any style, electric or upright for $75
Professional, radio ready bass tracks for your song from a seasoned studio bassist.

I am a professional freelance musician, producer, and songwriter based out of Colorado. Touring/recording credits include 14 time Grammy Winner Paquito D'Rivera, Grammy Winner Debby Boone, Otis Williams (The Temptations), Sean Kelley (The Samples), Calixto Oviedo, Brad Goode, & more.

I pride myself in nailing just the right feel and tone that you need so that the bass sits just right in your mix and makes your track groove as hard as it can. I can record modern electric (Ibanez 5 string, Fender Jazz), retro sounds (Fender P, Fretless Fender Jazz) or acoustic (1940s German upright, pizzicato or bowed, 1930s American Plywood) bass through an Apogee Duet interface into Logic Pro X. Can record with many amp/mic options (Ampeg SVT, MarkBass, Mesa Boogie amps, AKG D112, Audio Technica AT4040, Shure SM57, Audix F5 Mics) and will always give you a direct line so that the producer has amp modeling options to choose from.

I am comfortable recording pop, rock, blues, country, bluegrass, americana, indie, jazz, latin jazz, funk, R&B, soul, reggae, hip hop, classical & more. I am comfortable sight reading, reading lead sheets, Nashville numbers and of course playing by ear. I will create a unique bass line that fits your track perfectly. Additionally I am a session guitarist, check out my guitar page as well.

Rock
Pop
Country
Hip Hop
Americana
Blues
Jazz
Funk
Bluegrass