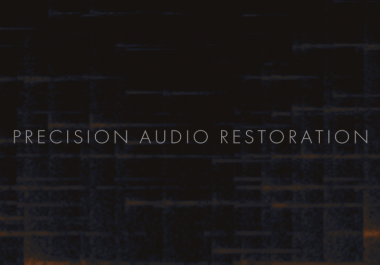 Precision Audio Restoration for $100
* Please contact us before placing your order! We like challenges but some recordings can not be restored. *

Fast, precise restoration of audio recordings including noise removal, editing, remixing, and remastering backed by over 10 years of experience. Our most popular services include audio cleanup - removal of ambient noise, wind noise, traffic, animals, reverb, and distortion - as well as de-saturation and removal of artifacts from heavily data-compressed video streams. We are not private investigators so please DO NOT send us eavesdropping recordings of your spouse, neighbors, etc.
We are trained audio engineers and experienced restoration specialists. Thus we can often identify opportunities to fix your problems with simple mixing techniques that leave the color of your audio unaffected, resulting in a natural sound with minimal processing. But if intensive sonic surgery is required you can trust that we'll do whatever can be done to produce the sound you're looking for. As artists as well as engineers, we love challenging projects which require creative, out-of-the-box thinking. Send us a sample and we will let you know how we can help!
Ethnomusicology - Academic Field Recording Restoration
Restoration of traditional Hmong music, field-recorded for research in Vietnam. Removal of distortion, clipping, audio corruption, and reduction of people noises
Ethnomusicology - Academic Field Recording Restoration

Podcast Noise Removal (before-after)

Documentary Wind Noise Removal (before-after)

Squeaky Chair Noise Removal (before-after)

Airplane Noise Removal (after-before)

Crowd Whistle Noise Removal (after-before)

Archival Music Restoration - Hello My Baby

Archival Music Restoration - La Vie en Rose