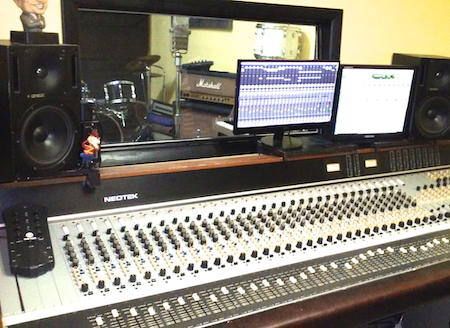 Mixing & Mastering From Veteran NYC Engineer W/ Major Label Credits for $150
Take advantage of over 20 years of daily professional experience. Wide variety of musical styles: Every Type Of Rock, Hiphop, Blues, Dance Music, Salsa, Samba, Soca, Reggae (both Roots & Dancehall), Reggaeton, and the following styles in both Traditional & Modern: R&B, Country, Jazz, & Gospel. Lots of other styles too! Love a wide variety of music, and will happily take any type of music to the next level and beyond!

I was fortunate to spend many years as a Studio Musician, and learning sound from engineers that I did sessions with at Legendary New York City studios: Hit Factory, Record Plant, Automated, A & R, RCA, Power Station (later Avatar), and many others.

We combine classic studio equipment purchased from the top out-of-business world class studios in NYC (see our studio website gear page for list), customization of (and training on) our gear and studios by some of the top designers and techs of recording gear and studios, combined with the most current cutting-edge Pro Tools 12 digital technology available!

We have also been fortunate enough to meet, learn from, work with, and develop wonderful personal relationships with, some of the most gifted, legendary, and amazingly talented humans that have ever lived. No exaggeration.

Label and Company experience includes: SONY, EMI, Sci-Fi Channel, WWF, Divine Records, Robbins Records, uPhonics (Rue Pauls Dance Label), Flawless (Fred Durst), and many others.

Have been the subject of articles in Pro Sound News, as well as being one of the Contributing Writers for Tape Op Magazine in their "Questions" section.

Artists worked with include: Warren Haynes (Allman Bros - Govt Mule), Bernie Worrell (P-Funk), Tracey Bonham (Grammy Nominee), De La Soul, KRS-One, Onyx, Lisa Lisa & Cult Jam, Larry Harlow (Latin Hall Of Fame), Billy Harper (Horace Silver, Art Blakey) and many others!

Up to three free revisions are happily done for you (but hopefully we won't need them)! Want you to be completely happy with every aspect of the sound of your recording!
Americana
Latin
Country
Jazz
Rock
Soul
Blues
Gospel
Gospel
R&B
R&B
Reggae
Reggae
Funk
Gospel
With 22 Piece Choir!
Gospel

Jazz-Brazilian-Reggae-Latin

Country-Soul-Blues

Rock Recordings

Dance Music