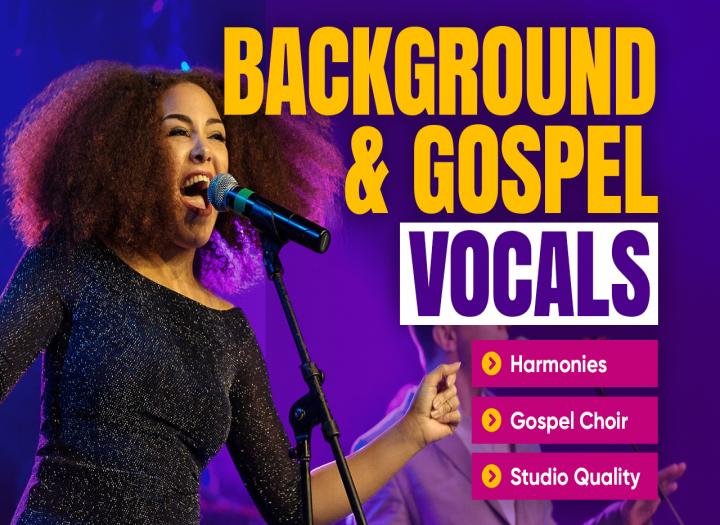 BACKGROUND VOCALS & HARMONIES FOR GOSPEL/R&B/POP $250 for $250
Hi, I'm Talisha, a UK-based session singer with over 10 years of experience.

I am a versatile vocalist and regularly sing a variety of styles. I specialise in Pop, Soul, Gospel and EDM and this is where my voice and tone really shine. Clients choose me when they need powerful and emotive background vocals to bring their song to life.

Previous clients include ITV, RTVE and international television. My acoustic project 'Karizma Duo' has over 20 million streams on Spotify.

MY STUDIO SET-UP
• Sound-treated vocal booth
• Universal Apollo interface
• Aston Spirit & Warm Audio WA47 microphones
• Logic Pro X

WHAT I PROVIDE
• Dry, clean vocal stems (24-bit wav file).
• Minimum of 3 Background Vocals.
• Song length up to 3.5 minutes.
• Commercial-use.

PACKAGES
• $150: 3 x BGV (Chorus only)
• $200: 3 x BGV (Bridge and Chorus)
• $250: 5 x Choir-style BGV (Chorus only)
• Add on double-tracked vocals to your package for an additional $50.

I also love singing harmonies and have a great ear for vocal arrangement. I regularly sing choir-style backing vocals, stacking multiple harmonies that create that big Gospel sound.

DELIVERY TIME
My standard delivery time is set to 7 days. I'm very lucky to be a full-time musician, which means I typically have several studio and live sessions happening in a week. If you need a faster delivery time, I can usually accommodate this - just please let me know before booking.

REVISION
I include one revision as standard in all of my packages - this allows for any necessary changes to be made. Please note that allowable revisions include: "That note seems a little flat, could you re-do that?" or "Can you sing this line with more breathiness?" Re-recording the complete song for any reason is subject to an additional fee.

Ultimately, I always want my clients to be 100% happy with the work I produce.

WHAT I NEED FROM YOU
• Instrumental version of your song
• BPM & Key
• Melody (played on the piano/guitar or sung)
• 
Lyrics

TERMS OF SERVICE
Songs longer than 3.5 minutes are subject to an additional charge.

Feel free to message me if you have any questions. I look forward to working with you on your next project!
Tralafitti
Reggae Background Vocals
Tralafitti

En Ti Confiare

Choir

I'm In Love