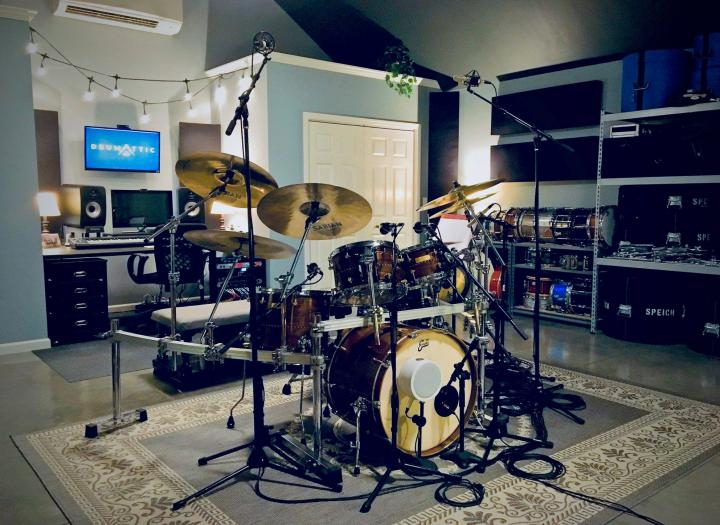 Professional Drum Tracking from Nashville for $110
Hey! I'm Chris from Drumattic in Nashville, TN. I've been recording and engineering for the better part of 20 years, from here in Nashville, and previously in New York City. I'm not just a drummer with a laptop - I'm a songwriter, arranger, producer as well, so I bring that "extra" set of eyes and ears to each session. I can take all the cues from you - or I can help you achieve what you hear in your head. My goal is to make you happy!

My specialty is working remotely. I'm easy to work with, and I'm professional.

*** IMPORTANT: AirGigs is set up in an "on-call" way, I am an active musician and the order completion time may vary based on my schedule. PLEASE INBOX ME to talk scheduling, if this is a concern for your project. ***

I've got a studio full of drums. In fact, I had to expand and build a 600 sq ft. stand alone studio next to my house to keep from exploding. Generally, I record on a custom made walnut-ply drum set with various snare drums and cymbals. I typically don't choose what I use until I hear your vision. From there, I'll choose from my carefully selected collection of drum sets, percussion, snares and cymbals, only use and set up what I need. Most of the time, a less is more approach is the key.

I record using quality equipment - mics, interfaces, monitors, DAWs, etc. I can get into it with you if you'd like, but with today's technology - everyone has the equipment - it's the performance and vibe that is key. I have years of experience in making what's hitting the mic sound great!

I'd be looking for an mp3/wav/aiff file of your current mix, hopefully tracked to a click. I don't need the click included, but as long as you can tell me the BPM, we'll be good to go. I'll track a few takes, and send you a rough mix to start the discussion. We can go back and forth and land at something you like. If you like the first one, great! If not - no worries... it's your song after all! Once approved, I'll send you a link to a ZIP file containing separate, raw, tracks for each drum or percussion instrument I've recorded, all starting from "0". They'll be high quality, 24/48. If you want a little post-processing, no problem. I can even send you a fully mixed drum bus stereo track, if you don't want to deal with individual tracks.

** Be sure to ask about custom packages, extra revisions, and multi-song rates! ** I'm also available for extra percussion - congas, effects, etc. Even some loops and electronic elements - see my other listing!
Love Letter - New Perennials
Drums, Mixing, Production
Love Letter - New Perennials

Same Old Game Again - New Perennials

Moth or Butterfly - Amelia Eisenhauer (American Idol)

This Old House - Jon Q

Heart in a Box - Franklin Gotham

Soldier On - Franklin Gotham