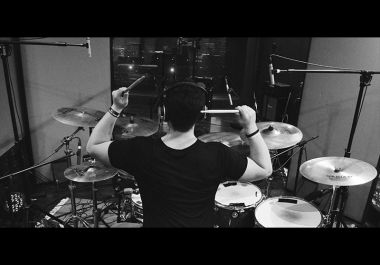 PRO SOUNDING LIVE DRUM TRACKS FOR YOUR MUSIC for $80
Paolo Conte is an Italian professional drummer with over 18 years of experience in studio recordings and sessions with some of the most respected artists of various backgrounds.

I have 2 professional sounding drum kit with various sized drums, and 2 (TWO) full sets of many high-quality cymbals to choose from for your specific music.

I work with various Italian studios, allowing me to have access to all of the top quality microphones and best sounding rooms in the business. My usual mic setup is one Snare Top, Snare Bottom, Kick In, Sub Kick, multiple mics for Toms (depending on the requirement), R/OH, L/OH, Room.

You can order from 3 to up to 10 tracks for your music at a time, and I can work with 2 revisions for each song. My goal in the studio is ALWAYS to serve the song, coming up with original ideas and grooves, and always following the directions of my clients. All of the tracks will be full sounding multiple tracks, with the previous request I can also give a quick mix and compression to all the drums!


Let's take your music to the next level together!

Pop
Rock
Blues
Gospel
Hard Rock