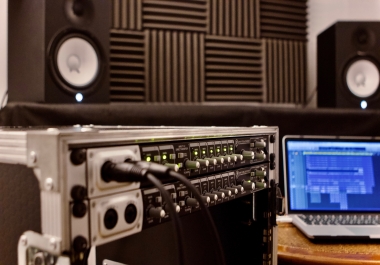 Online Session Drummer - Jerry And Drum for $100
Gear:

TAMA Starclassic Bubinga Elite
Exotic Snare 14" x 6"
Steel Snare 12" x 5"
Tom 10" x 9"
Tom 12' x 10"
Tom 14" x 12"
Tom 16" x 14"
Kick 22" x 18"
​
Zildjian Cymbals:
K Hi-Hat 13"
Avedis Hi-Hat 14"
K Light Hi-Hat 15"
A Custom Projection Crash 17"
A Custom Projection Crash 18"
A Custom Projection Crash 19"
K Dark Crash 19"
A Custom Projection Ride 20"
K Custom Dry Ride 20"
K Light Ride 20"
K Light Ride 22"
K Constantinople Ride 22"
Oriental China Trash 16"
Oriental China Trash 20"
A Custom EFX 20"
Trashformer 10"

Microphones:
Rode NT1-A
Shure SM57 x 4
Audix D2 x 2
Audix D4
Audix D6
Audix i5
Audix ADX51 x 2
Rode NT5 x 2
AKG D112
AKG C418
AKG C1000S x 2

Mackie Onyx Blackbird 8 channels interface x 2
MacBook Pro running Logic Pro X
Yamaha HS80M Monitors
Remo and Evans Drumheads
Pellwood 5B Classic Maxi Drum Sticks

Credits and past work:
Opya, The Black Hearts, Dead Man's Crossing, Nevaneva, Colour Dawn, Silent Descent, Cypher 16, Dan Trigger, The Spindle Sect, Agatha, The Jigsaw Trio, Tokyo Taboo, Jennifer Batten (Michael Jackson) and many others. Currently working as a musical director and a drummer for Hossein Tohi, drummer for The Asbos, Mindpilot, Ace Mafia and The Fedz featuring James Poyser from The Roots.

Here is what you need to do to get your drum tracks:

Record guide track to a click and send me an mp3

If you already have a click track created, DO NOT bounce it together with a guide track

Describe what kind of vibe and sound you're looking for

Here is what will happen:

I'll record a couple of takes and send them to you as an mp3

You can have listen and let me know if there are any changes needed. I'll do as many adjustments as you like to assure you'll be 100% happy

When you're happy,  I'll send you the files of drum session using format that suits you.
Pop / Classic Rock

Modern Rock / Metal

Funk / Jazz