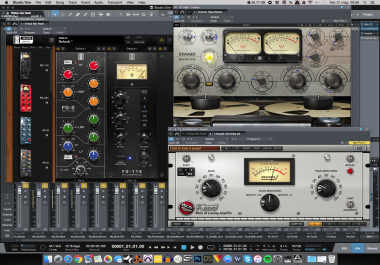 Mixing full song for $150
Hi,
I can provide a full mix in the box using DAW like Presonus Studio One 4.6 and/or Reason 11. Also I can help your tracks to sound better with basic editing, tempo alignment and vocal tuning.
My gears are :
- Focusrite Saffire Pro 40
- Alesis Elevate 5 monitor
- BeyerDynamic DT770 PRO headphones.
I can use stock plugins and 3rd parts plugin like IK Multimedia, Slate Digital, Waves (I'm a certified Waves Audio Artist) and more for a full, rich and dynamic mix. Listen the example!
The service provide :
- Full mix 44 KHz, 24 bit
- Full mix with basic mastering (loudness control) (WAV format)
- Full mix with basic mastering (loudness control) (mp3 format)
- Instrumental version
Contact me if you need more information! Thank you! :)

Simone is an Italian musician and producer, whose musical activity ranges over live concerts and studio sessions, together with songwriting and arrangement of new songs, advertising and movie soundtracks.

His experience has led him to work with different music styles such as: rock, pop, electronic, world/ethno music, chill out, ambient, dance.

He attended training courses in Production and Songwriting at the Berklee College of Music and graduated from the Globe Sound and Consciousness Institute in San Francisco, where he specialized in Sound Healing Music Production and Binaural Beats.