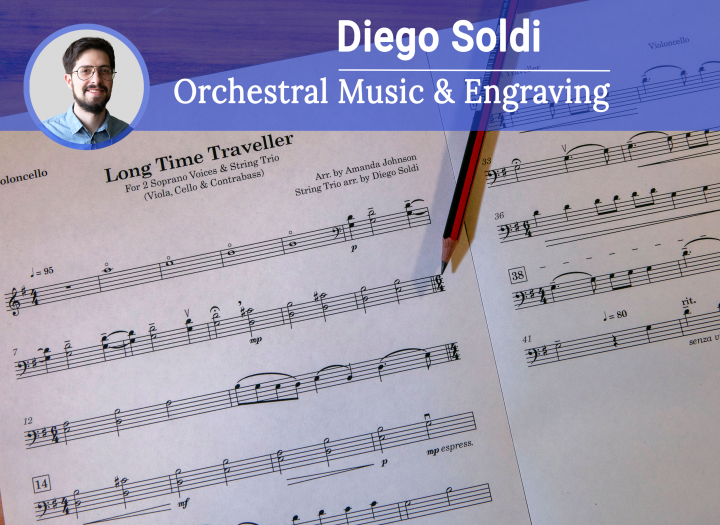 4-min original HQ orchestral soundtrack and arrangement for $150
My name is Diego, and I'm a Music Professor who graduated from the Conservatory of Music of Buenos Aires "Astor Piazzolla". I compose/arrange original orchestral music for Video Games/Commercials/Films/Songs/Musicals.

I don't just use good sample libraries; I also write in a realistic orchestral fashion, a key feature.

I offer:

- Orchestration: Symphonic/chamber orchestral writing using high-quality sample libraries. I can make an orchestral track from scratch, or based on MIDI files, or even transcribe music from a PDF into a final orchestral mix.

- Arrangement: Reinterpretation of your material (e.g. piano) into an orchestral soundtrack with or without foreign instruments (guitars, world percussion, choirs). Any style from tender ballads with strings to a blasting epic sound.

- MIDI programming: MIDI files ready to import into your DAW session, with velocities and CC programming.

- Music notation: Professionally engraved sheet music including dynamics, articulations, and every detail of the final track. Full Score and/or Individual Parts (charged separately).

This service includes a 4-min track with one revision. The track will contain ONLY a mixed version of the FULL ORCHESTRAL ARRANGEMENT.

*** EXTRAS ***

- Extra minute of music $30
- Audio stems for $10
- Commercial License for $15
- Additional revision $10
- MIDI file of the arrangement $15
- Sheet music (price depends on the project)

---

Please do not hesitate to contact me with any further questions, every project is unique.

Hope I can be of service. Feel free to place your order!
Classical
Opera
Musical theatre
Pop-Rock
Own Magic Place ft. Denise Gonzales
Lyrics by John C. Evans / Music and Orchestration by Diego Soldi / Vocals by Denise Gonzalez
Own Magic Place ft. Denise Gonzales

Asturias

Now the Day is Over

Love You Anyway

Medley

Asphyxia

Sky is the limit

W. A. Mozart