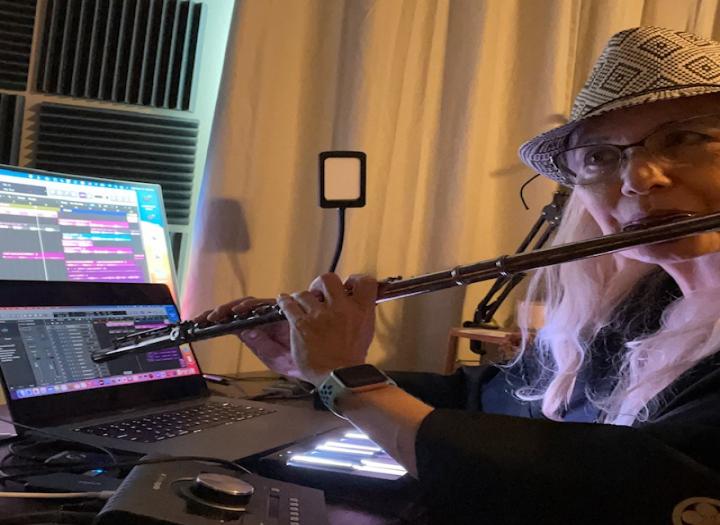 Soothing, emotional and sultry flute hooks, solos and ambient support for your next project. for $100
Hello!

My name is Tia, and I am a classically trained flutist/flautist, songwriter, singer and producer. I have played in multiple orchestras and bands performed live and have added flute to pop and other recordings. I am influenced by James Galway, and Jean-Pierre Rampal and play contemporary, pop and meditative music. I also performed drums with a taiko group and have some familiarity with this genre. I have added flute solos and hooks to recordings, as well as created textures and ambient pads for different genres. I can read music, but also improvise and play by ear.

Comments regarding my flute recordings:

"This is insanely well recorded!! Bravo!"

"Holy smokes! You nailed this!!"

"...Gorgeous flute!!! Your mix sounds really smooth and present too! Awesome work."

Gear highlights: Logic Pro X, Shure SM7B and Slate Digital ML-1, Gemeinhardt and Vern Q. Powell Aurumite flutes.

I am also a songwriter, producer, and singer, which helps me to understand song structure and create elements that add to and support the music. My services include the following:

• Consistent communication through email through AirGigs to ensure your needs are met
• Two revisions with additional revisions by request, for a reasonable rate
• An initial virtual consultation to discuss the specific request for your project if requested
• Preliminary delivery of the WAVE and MP3 within three days. However, we can discuss options if you need faster delivery.

I look forward to hearing about your project and providing flute tracks to add interest, texture and feeling to your song.
Pop
Singer-Songwriter
World
Ambient
Classical
Zeninu Music Flute Demo
The demo reel provides several examples of how the flute tracks that I create support and add texture and emotion to a song. Genres include a solos for pop songs, instrumental created for a short video, and a flute track set to a beat.